Boycott/Divestment/
Sanctions (BDS)
---
Take the profit out of Occupation & Apartheid
When a country violating human rights does not respond to decades of pressure through diplomatic efforts, international law, or rulings by the International Court of Justice, another level of pressure is needed. For example, when member states repeatedly violate resolutions, the United Nations often imposes sanctions like those currently being imposed on Sudan for occupation in Darfur.
Israel has now violated more UN resolutions than any other country in the UN. Nevertheless, any UN proposal to remove international complicity in Israel's transgressions has been systematically opposed by the United States through its veto in the UN Security Council. The question is not whether Israel should be singled out for BDS, but whether it should be immune to the standard to which other countries are held.
In 2005, hundreds of civil society organizations came together to endorse a collective Palestinian call for people and institutions around the world to do what the UN has not had the courage to do: to stop profiting from Israel's Occupation and discrimination against Palestinian Christians and Muslims. This call was similar to the one made by Black South Africans living under Apartheid, a call that began an unstoppable movement that helped topple Apartheid in South Africa.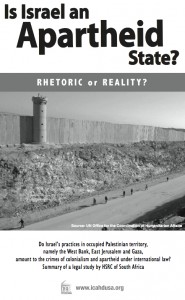 Curious about the analogy? Order or download "Is Israel an Apartheid State?" – a phenomenal booklet compiled by Israeli Committee Against House Demolitions-USA summarizing a legal study by the Human Sciences Research Center of South Africa.
In just 5 years, the Palestinian BDS movement has grown more than the respective BDS movement against South Africa did in its first 20 years of existence! The Interfaith Peace Initiative has compiled a list of global BDS actions to date—88 pages worth! We still have a long way to go, but it's an exciting time to get involved!
Given the absence of a clear sole representative of the Palestinian people, many people wonder how best to support what the everyday Palestinian wants. In spite of factions and geographic separation, Palestinians from all walks of life, political affiliation, and personal background have joined together for this call. It has been endorsed by farmers unions, doctors unions, teachers unions, Fatah, Hamas, refugees, Palestinian citizens of Israel, and more. For many, BDS has come to symbolize a unified voice of the Palestinian people and the greatest hope for change in our lifetimes.
The fact that Palestinians have asked us to engage in BDS is the best reason to do it, but it's not the only one. Others:
Historic precedent: it worked against Apartheid in South Africa.
It's already working! There is constant concern within the Israeli government and Zionist American groups about this global nonviolent movement, precisely because of its potential.
It's realistic. In 2009, Hampshire College just became the first US college to divest from companies involved in the Israeli Occupation... just 33 years after Hampshire College became the first US college to divest from Apartheid South Africa! Times are changing and the first one is always the hardest...
It's a great educational tool. With a BDS Campaign going on, people are forced to learn about the issue and make their own choices about it, rather than being able to ignore it. It also means that even if you don't win the campaign, you've still won.
It's nonviolent. For those calling on the Palestinians to engage in nonviolent resistance, here is a clear, organized nonviolence movement to resist discrimination and an illegal occupation.
Universities, churches, labor unions, pension funds, and even municipalities and entire states are just some of communities that can get involved. Planning a campaign takes lots of patience, preparation, and strategizing, but it's very rewarding. There are many organizations, individuals, and resources out there to support you.
First, make sure you are acquainted with the 2005 Palestinian call for BDS, upon which the global campaign is based. Both www.bdsmovement.net and www.pacbi.org have published the call, FAQs, examples of campaigns and successes, and much more to help you get started…
You can read through a list of companies profiting from Israel's crimes against Palestinians, but remember that it's most effective when the whole movement focuses collectively on a few targets. Consider joining one of these ongoing campaigns to do just that...
Adalah-NY: The New York Campaign for the Boycott of Israel is a particularly active and effective local BDS organizing group, whose work can serve as a model to others, particularly in following the Palestinian Campaign for the Academic & Cultural Boycott of Israel. The group is in the process of developing more materials online.
In addition, Israeli Apartheid Week, held during March every year, consists of actions and events around the globe particularly focused on strengthening the BDS movement.